Personal Development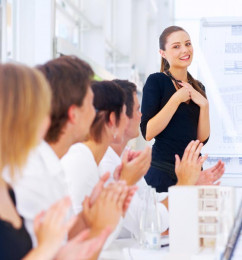 Do you get nervous when asked to make a presentation?
Do you talk too fast?
Do you get lost in the details?
Are your gestures distracting?
Are you persuasive?
There are many ways of overcoming the fear of public speaking or simply honing your existing presentation skills. Individualized coaching is the fastest and the most targeted way to help you reach your goal of establishing a more professional presence in front of any audience.
We know the simple skills that will allow you to become a more Clear, Concise and Compelling presenter. Customized presentation skills coaching will help you become more competent in knowing how to prepare, construct and deliver interesting, engaging and persuasive face to face or virtual presentations.
UPFRONT Persuasion Through Presentation™
Click here for more information
One-on-One Coaching
Click here for more information
Grab Your Own Group
Click here for more information
meetingsUPFRONT - Moving decision making forward
Click here for more information
Slide Makeover Lab and Webcast
Available in both a 3-hour face-to face training
workshop
or a 2-hour online
webcast
.
Who Benefits?
Business Networkers
Salespeople
Managers and Executives
Project leads
Engineers and Scientists
Community workers
Organizational Presidents
How we can help
Improve your elevator speech
Differentiate your sales presentations
Develop your Venture Capital presentations
Professionalize your delivery style
Rid you of pesky "um's and 'uh's"
Increase project funding
Effectively address Board Members
Improve slide design to Increase retention
Influence your persuasiveness
contact us
How Are Your Presentation Skills?

Take our
quiz
to find out.